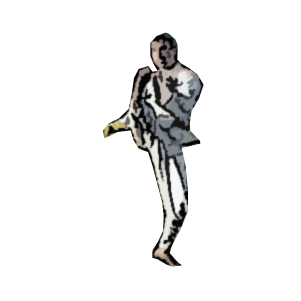 Our Instructors
Mr Vince Pygott started training in August 1985​ at Pakuranga Taekwon-Do under Master (Rocky) Rounthwaite [then 2nd Dan].
In 1988 he was asked to go assist in opening 2 clubs one at Mt Albert Grammar school, where he worked, and the other in Avondale. After he gained his 1st Dan (August 1989) he was able to open his own club which started in February 1991. Mr Pygott has been instructing ever since.
Mr Pygott says:
Through instructing I been able to contribute to my local community. It gives me a lot of satisfaction to know that I have helped others — children and adults alike — even if only in a small way, to live a happier, safer life.
Mrs Shirley Pygott started training in Taekwon-Do in the 1980's.
She has been teaching Taekwon-Do for over 25 years and has specialized in Teaching children. She has been so successful with her teaching style that our National body ITFNZ has implemented her ideas to create a children's syllabus for Taekwon-Do.
Shirley Pygott
Instructor
Matt started training in 1998 and attained his 1st Dan in 2001. Matt was selected to represent New Zealand at the 2009 and 2013 World Championships and recieved a 2nd place at the 2009 Champs in 2nd Degree Patterns. He has also competed internationally at the ITF World Cup in England, the US Open in Florida, USA and the Asian Champs in Vietnam.
He also has many Oceania, National & Regional Titles to his name and is very active in the Taekwon-Do community. He is the current and 5th year running Head Coach of the Auckland North Team to compete at the New Zealand Nationals.
Stephanie Crossley started training in Taekwon-Do in 2007.
Stephanie is the instructor of the Long Bay club and is also a Kiwisport instructor (Teaching Taekwon-Do at schools across Auckland).
Stephanie Crossley
Instructor
Jonpaul started training in the early 2000's, attaining 1st Dan Black Belt in December 2010.
Jonpaul enjoys all aspects af Taekwon-Do. He specializes in self defence, flying techniques and the technical side to Patterns and Techniques.
Jonpaul Lamberton
Assistant Instructor
Emma Pygott started training in the mid 1990's and attaining her blackbelt in 2005.
Emma has assisted with many clubs and has a lot of fun working with Kids.
Emma Pygott
Assistant Instructor